A Tale Told By an Idiot Kickstarter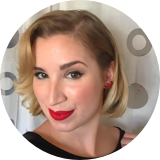 Somehow in my life, I feel backwards into the world of digital series. And I am so grateful that it happened! I've been fortunate enough to have worked on several webseries and digital shorts. One of the great joys of it is the friends I have made, and that I now get to make cool and creative content with them.
One of those friends is Ashley Clements, who I met when working on the webseries 'The Wayward Guide for the Untrained Eye' being made by the Tin Can Brothers. When she told me Brendan Bradley, William J. Stribling, and her were working on an adaptation of Macbeth I was so excited to work with them all! We've done the initial phase of filming, but they need some help raising funds to complete the project now. And of course, that where you lovely people come into play.
I really hope you can donate, and help complete this story. It's been such a joy helping to bring these characters to life in a tech based setting, and I'm looking forward to getting back to work with all these amazing creative people! As of Now, they are nearly 60% to their goal of $25,00. Which is amazing, but they need help to meet the full amount. So be sure to check it out, support if you, gets some cool stuff, and spread the word! 
Click here to Donate and make the Bard Proud!